I just noticed this
bas-relief
plaque on the index page for the
Documents of Vatican Council II
.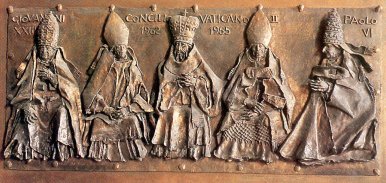 The figure on the left is that of Giovanni (John) XXIII. On the right is that of Paolo (Paul) VI. The former convened the council in 1962 and presided over it until his death in 1963. His successor, Paul VI, reconvened the Council, presiding until its completion in 1965.
In the middle of the plaque is a patriarch of the Eastern Church flanked by two other bishops; I assume that none of the three is identified.
I have no further rationale for this post other than finding the plaque to be very intriguing.